---
Auto-Faxing Setup
We set up customer databases using Microsoft Access and install buttons as shown below to fax customers automatically the Microsoft Word documents that you construct and then update the database for the records that were successfully faxed. Those that were not faxed successfully are sent postcard mail pieces and the database is updated for mailing. We use WinFaxPro for our fax program. We can install pcANYWHERE on one of your network PC's and then do it for you remotely if necessary.
What's In It For You

Update customers periodically at the lowest cost possible
Contact customers regularly so they keep you in mind
Get your information to customers with the shortest lead time possible
Add a sense of urgency to your message
Take advantage of the late-night delivery when the fax machines are not in use
Personalize each fax with merge fields
Keep your message short and simple
Save time and materials since there are no paper documents and no handling

Why Choose Mitchell Selling Dynamics

We have the know-how to get it right
We use the most economical hardware and software
We develop all screens in Microsoft Access which you can modify yourself
We have extensive experience developing databases and setting up auto-fax
We are sales and marketing experts
We can do the whole project or any part
We are the best VALUE for this kind of project
Fax Preparation Screen - Example
This is a sample screen for creating the table to be auto-faxed. It shows the buttons that would be used before the faxes are sent. These buttons will allow you to create the "faxes to be sent" fax table which will be linked to the WinFaxPro application.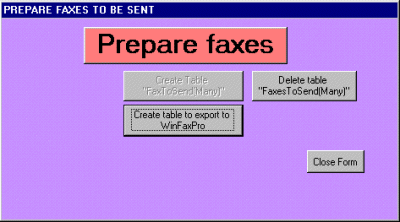 Post Auto-Faxing Screen - Example
This is a sample screen to be used after auto-faxing. These buttons will allow you to import the "sent" fax table and then identify which faxes were sent successfully and which were not. Successful faxes are used to update the last fax record in the customer database and unsuccessful faxes are used to send postcard mailers and then update the last mail record in the customer database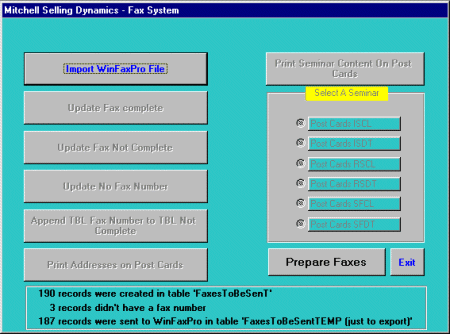 Modifications

We can set up the system so that you can make changes using standard Access functions or we can lock out the system so that no changes can be made. You can add buttons or documents easily using standard Access commands.

We can develop the fax documents in Microsoft Word97 for you or show you how to do it and how to import them into WinFaxPro

Your Cost

Simple system setup is $1000 which includes taking existing database tables and exporting them for auto-faxing; creating a coversheet from a Word document and developing a fax phone book link.

Database, document development and auto-faxing projects can be completed for well under $5000.
---
Mitchell Selling Dynamics, Inc.
Since 1990

1360 Puritan Avenue, Birmingham, Michigan 48009, USA
Phone: 248-644-8092
E-Mail: info@mitchellsell.com

© Copyright 1996-2014 Mitchell Selling Dynamics Inc. www.mitchellsell.com