---
Custom Sales Training Programs
We provide custom sales training programs, presented entirely by John Mitchell, in your facility or at a conference center in your area. We can do any of our standard programs or you can choose a topic of your choice. We can also do far-ranging "assessments" of your people and then create a comprehensive remedial training system to improve selling skills. When we do custom programs we get intimately involved with your company. We do extensive research about your market situation and your products. We study your sales strategy, your customers, your competitors and develop a comprehensive needs analysis on each attendee. We telephone call about 25% of the planned attendees to get first-hand comments from them. When we do custom programs we know enough about your situation to make the attendees feel right at home with one of the family. We have a French and German translator on staff who can provide simultaneous translations during a program.

What's In It For You


- You will get increased profitable sales
- You will hold on to existing customers by increased customer retention
- Your market share will increase
- You will get improved professionalism through skills enhancement
- You will manage your time better using our unique scheduling system
- You will learn new ways to use computers to work smarter
- You will get role plays that use your set of circumstances
- You will learn from examples taken from real-life situations involving your products
- You will gain specific new techniques
- Your strategic message will be reinforced
- Your employees will be motivated and energized
- You can choose from a variety of classes or subjects that take as little as an hour or as much as several days.

Why Choose Mitchell Selling Dynamics

- We are recognized authorities in sales training and we are proud to be endorsed by the AMTDA (American Machine Tool Distributors Association); The MSAE (Michigan Society Of Association Executives); and ICSA (International Customer Service Association).
- We have produced results for companies just like yours and many have taken the time to provide references
- We will understand your needs through extensive research
- We will contact about a quarter of your attendees to get a first-hand appraisal of your situation
- We can provide on-line training to re-enforce the message
- We will record your program and provide CD's or tapes for follow-up review
- We are the best VALUE for sales training
- We can add Teamwork development sessions and more
- We provide each attendee with a handsome completion certificate
Information We Request
Attendee Information
Completed questionnaire (see below).
Resumes if available.
Phone discussion with John Mitchell regarding the needs of each attendee.
Company Information
Unique selling strengths
Mission statement
General sales management philosophy
Last three years sales volume and projected next three year sales volume
Market position and share
Market niche or strategic market focus
Product focus, catalog copies, advertisement examples
Profit level for last three years and projected next three years
Inventory level
Sales training provided to attendees in prior two years
Number of employees by function
Short profile on key management personnel to include: background work experiences, education, years with company, personal situation, key interests, major strengths, weaknesses if appropriate for our program
Customer Information -Top 10
Name and location.
Sales person responsible (both outside and inside sales).
Products sold to each customer.
Potential ($) of each customer
Product or service that each customer manufactures or performs.
Competitor Information-Top 3
Name and location
Unique selling strengths
Share position in the market
Estimated annual sales
Number of sales people
Market segment focus
Market Information
Trade magazines - sample of one or two most important
Other market publications
Attendee Information Requested
We do a thorough needs analysis of each attendee. We have extensive phone conversations with the attendees and their managers and peers. Further, we have them submit answers to the following questionnaire: Please click here for web form.
Attendee Name, Title:
Home City, State/Province, Home Phone:
Years In Sales:
Years In Trade:
Years With Company:
Brief Job Description:
Brief Background Description:
Education:
Typical Customers You Service:
Brief Description Of Your Territory:
Computer Experience:
Sales Training That You Have Completed:
Special Achievements/Qualifications:
Hobbies/Interests:
Specific Subjects You Would Like Discussed:
What's Included

1.- Developing the customization which includes analyzing the needs of your company, your market, your customers and your competitive situation
2.- Studying the specific situation and background of each attendee
3.- Doing the preparation for the materials customization including the development of written materials and computerized presentations
4.- Visiting your web site, your customers' sites and your competitors' sites and translating this into strategic direction
5.- Gathering information through extensive emails and phone calls between your company and us with personal telephone calls made to about 25% of the attendees
6.- Printing the handout books
7.- Translating the materials where necessary
8.- Assembling the handout books
9.- Preparing PowerPoint presentations
10.- Using expensive presentation equipment including LCD projector, laptop and specialized software
11.- Finalizing and discussing flights, hotels, on-site setups and presentation details

12.- Traveling time from Michigan
13.- Applying for appropriate travel visas and government travel documents
14.- Traveling time between cities
15- Discussing your situation at dinner and breakfast
16.- Setting up the meeting room at each location
17.- Presenting a full-day program with each group
18.- Customizing cases and role-plays development
19.- Recording the presentation, post-presentation editing and cassette tape preparation
20.- Developing on-line Internet reference and re-enforcement pages and programs
21.- Printing tent cards, name tags and diskettes
22.- Creating and sending completion attendee certificates
22.- Paying finders fee or commissions to our agents
Group Size
We have done meetings with several hundred in the audience and we are able to reach everyone. However, we think group sizes under 50 provide more intimate settings. We have done custom programs for groups with as little as 5 persons. We prefer to do our programs with a U-shape setup and we encourage each participant to contribute ideas during the day.
Recommended Seminar Setup For 28 People
We have a ton of these layouts and generally do one for every custom program. The venue is very important for a good program. We like to get exact room dimensions and check on the ventilation, exterior noise level and lighting.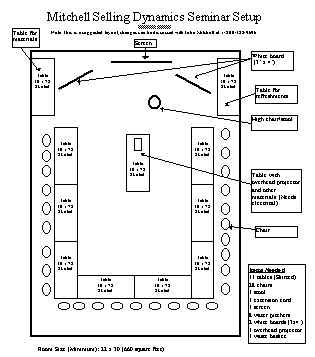 Recommended Seminar Setup For 60 People
Click on the thumbnail to see full size picture.

Your Cost For A Custom Program
Generally, our charges are negotiable depending on our work load, how much time is involved and where the training will be done. We have found that charges of around $1,000 to $2,000 per day or actual training allows us to do adequate preparation and deliver a good local program for a limited amount of people. (travel and living expenses are additionall) Programs with a lot of customization, preparation and attendees can total $8,000. There is more information about our charges for large groups in our fee schedule. Please contact our references or view our testimonial letters.
[_private/bottom_page_bander.htm]