Simple Scheduling System
Objective
Schedule repeat contacts with about 50 end users of our products.
Description
Divide your territory into four sections and list about 12 end users in each section. Establish a sales goal for about half of these accounts. The four sections correspond to four weeks in a month. Each week you will be focusing in one of the four sections, scheduling your time at end users in the section. The end users in the section should be designated as A, B or C accounts with A accounts providing more opportunity than C accounts. Inform your distributors when you will be in each section in the beginning of the year and remind them often. As you work the section your focus should always be on the A accounts and you can use the C accounts as "fill" when you have the chance to work them in.
Example
Week 1 - Section 1
Monday: Handle unforeseen opportunities and phone
Tuesday: Franklin Schools, Green Psychiatric, Lemon Properties, Burdon Architectural
Wednesday: Hugh Construction, Simon Partners, Extend Properties, Hi-Growth Properties
Thursday: Longworth Schools, Mercy Hospital, McCarthy Properties, St. John Hospital
Friday: Handle unforeseen opportunities and phone
Section 1 Fill accounts: Luke Properties, Small Hospital, Greenville Schools, Lakewood Schools, Crescent Properties, Pinnacle Properties
NOTE: Any accounts that come to our attention, which are not listed above, are to be evaluated by distributors before we make an in-person visit
You Must Get Personal To Sell
The very best sales people are personally involved with their customers after hours. This means inviting customers to backyard barbeques, family birthday parties and getting to know the customer's family. Selling is not a 9 to 5 job and you cannot do it alone. You must involve your family to!
Please page down to see past newsletters.
We are happy to have Timeless Antiques as a new client who has come to us for technology support. Call Richard Smith, III (248-582-1510)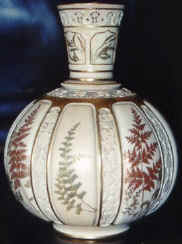 Circa 1882 Porcelain Vase (Worcester, England) $1100
Microsoft Office Training
Our Sales Force Automation class is getting rave reviews. The full-day class provides a wealth of meat and potatoes about the uses of Microsoft Windows, Word, Access, Powerpoint and Excel plus how to use pcANYWHERE and the Internet to grow profitable sales. As with all of our programs this can be put on at your facility. Attendees have told us that the bountiful number of tips and shortcuts have been unparalleled.
Importance Of Profits
Many sales people think that giving a 10% discount is no big deal! In fact, I used to think that it was no big deal, but I have changed my ways after learning more about business. If a product is sold for $1000 it may consist of purchased materials that cost $250. There may be $250 of labor that went into making it and there may be another $250 of overhead expense allocated to this product. What is left is the profit which amounts to $250. The average, novice sales person thinks nothing of giving away 10% of the $1000 which amounts to $100. If we think about this $100 in terms of profits it is nearly half of the profits!!!!!! Every day there are many companies that go out of business with $ millions in sales. Their problem is profits!!!!! Profits are the lifeblood of every company and are used to insure the security and growth of the employees.